Fortnite is an imperial army away from taking over the entire world. The game is rapidly sweeping not just the United States, but the entire world, and quickly becoming the only thing gamers of any size, shape, color, creed, or gender want to do with their lives.Recently, we've seen an increase in the amount of professional athletes, especially NBA players, who happen to love video games, and it's no surprise that many of these ballers have come to love Fortnite, as well. We thought it would be a fun idea to put together an All-Star ensemble of NBA players that could double as a Victory Royale-worthy unit in Fortnite!
Point Guard - Reggie Jackson, Detroit Pistons
In his sixth year in the NBA, Jackson has proven himself to be a pretty reliable point guard for the Detroit Pistons. Now teamed with Blake Griffin, the team currently finds themselves battling for a playoff spot - but there's reason for optimism in Detroit. Jackson is also a known Fortnite player, and the one who got Pistons center Andre Drummond hooked onto the game, perhaps a little too much. We certainly hope Drummond is able to beat his addiction and return to normal, healthy playing habits, but we'll take his point guard on this team for the time being.
Shooting Guard - Andrew Wiggins, Minnesota Timberwolves
Drafted first overall by the Cleveland Cavaliers in 2014, then shipped to Minnesota in the trade that brought Kevin Love to "The Land," Wiggins has become one of the top young players in the league, and one of the reasons for the turnaround the T'Wolves are currently experiencing. While the team is currently seventh in the Western Conference standings, a string of good games could put them as high as third in the conference - though far away from the current number two, the Golden State Warriors. Wiggins is currently averaging just over 18 points per game this season, and is on pace to play over 80 games for the fourth straight year.
But you're not here for his basketball stats, you want to hear how good he is at Fortnite, right? Well, according to his teammate Karl-Anthony Towns, the two Wolves had themselves a long night playing the game on a recent trip to Indiana:
If you're playing for that long, you're either really good or really persistent.
Small Forward - Gordan Hayward, Boston Celtics
Yes, Hayward is currently out for the season after taking a nasty fall a few minutes into his Celtics debut, but he's using the time off to get better at shooting basketballs and his sniper. Check out this funny exchange between Hayward and some poor soul who got blasted from 100 yards away. (NSFW LANGUAGE):
Anyone who has followed Hayward's career knows how big of a gamer he is. Hayward made ripples before when he appeared at the League of Legends North American Championships and revealed how much he loves the popular MOBA:
Hayward often streams on a number of different Twitch channels. The best way to find more info on where he's currently streaming is to follow him on Twitter.
Power Forward - Paul George, Oklahoma City Thunder
Speaking of Indiana, the (former) star of the Pacers, now of the Thunder, is an obvious choice for the 4 on this team - and has the potential to be the superstar of both the hardwood and Wailing Woods. In his first season with the star-studded Thunder, George is averaging almost 22 points per game on 43 percent shooting. Another former first-round pick, George has the credentials to back up his stardom, being apart of the All-Defensive 1st team back in 2014, 2nd Team in 2013 and 2016, as well as being voted All-NBA 3rd Team three times, in 2013, 2014, and 2016.
George can also hang with some of the top Fortnite players, too. Here he is going to work with YouTuber LSK:
Guess there's a reason PG13 has a pair of Playstation-inspired kicks, isn't there?
Center - Karl-Anthony Towns, Minnesota Timberwolves
Arguably the biggest gamer in the Association by far, you knew the KAT had to be on this list somewhere. Towns can play both the 4 and the 5, but for this list we'll put him at C for his ability to stretch the floor for the rest of his teammates and shoot well for a big man. The 2016 NBA Rookie of the Year can flat out ball, averaging 21 points and 11 rebounds for his career, and he hasn't missed a game yet.
Oh, and he's pretty good at Fortnite too. Here he is playing alongside YouTuber LosPollosTV:
For more of the KAT, check him out on Twitch, where he streams pretty regularly, especially in the offseason.
Sixth Man - Steven Adams, Oklahoma City Thunder
This one might not seem that obvious. After all, there's no proof of Adams playing the game, and George hasn't mentioned him during a stream even once. That doesn't matter, though, because Adams is in the game: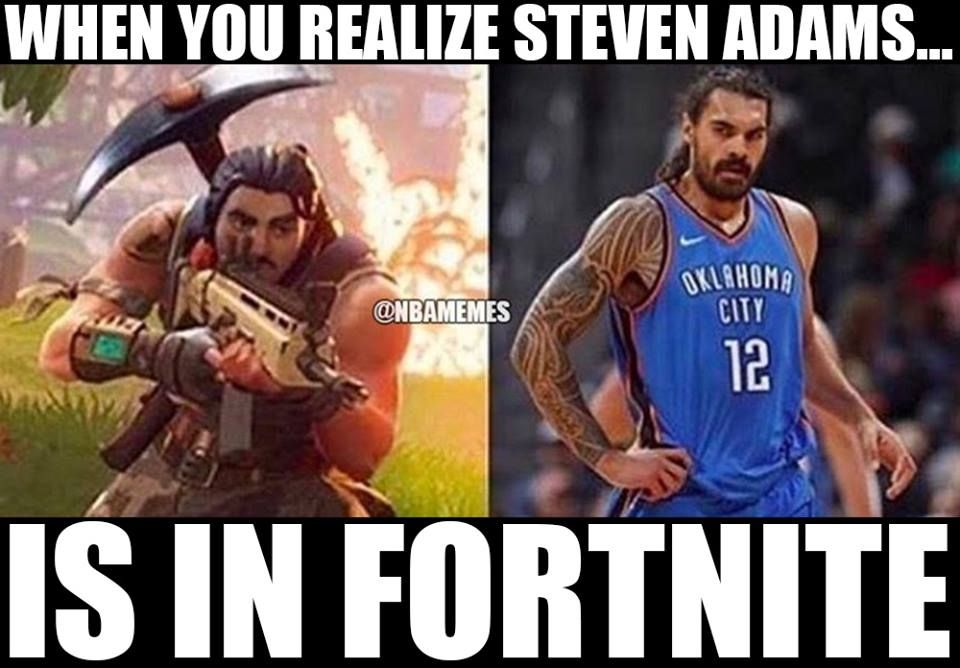 (Credit to NBAMemes on Twitter for the photo)
Better protect your loot and your "Little Wizards" from Adams.
Can't get enough Fortnite? Check out our guide on combat building!