Policy
Official MAME Platform Submission Rules and Guidelines
This page is a chapter in 'Policy Official Book of TG Guidelines'
OFFICIAL MAME SUBMISSION GUIDELINES


MAME stands for Multiple Arcade Machine Emulator. When used in conjunction with an arcade game's data files (ROMs, CHDs, samples, etc.), MAME attempts to reproduce that game as faithfully as possible on a more modern general-purpose system. MAME can currently emulate many thousands of classic arcade video games from the very earliest CPU-based systems to much more modern 3D platforms.
For submissions using the Multiple Arcade Machine Emulation platform, Twin Galaxies only accepts submissions from versions of MAME that provide the ability to record "INP" files.
INP files are essentially a recording of all the input data that the MAME program receives from you during a play session, and this recording allows for your gameplay to be identically played back by others with MAME for examination in real time.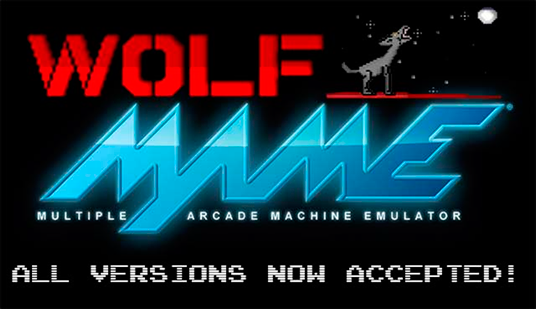 There are many versions of MAME that are available. Historically, Twin Galaxies has encouraged the use of a version called WolfMAME since it specifically contains limitations on some general MAME options that may be unfairly used by a player against the rules. Submissions using WolfMAME will tend to be more initially trusted - However, submitters are free to use whatever MAME version they would like as long as that submitters enter in the 3 digit version number of the version of MAME / WolfMAME that was used for the score performance.
MAME submissions not using WolfMAME are only allowed if video of the complete performance is provided along with INP. The video of the non-WolfMAME score performance must visibly show hands and controls throughout gameplay. It must also show start up of game launch.

The General Guidelines that apply to all MAME and WolfMAME submissions are as follows:
All submissions MUST include the .INP and video footage directly uploaded to Twin Galaxies. Failure to include either in your submission will invalidate your submission.

AUTOFIRE IS NOT ALLOWED! [There are 0 exceptions barring it being an in game feature that is NOT controlled by Dip Switches] Use of it will result in your score being automatically rejected. This means ALL external sources for Autofire [such as joysticks] and ANY Dip Switches that turn on Autofire.

All Mame Submissions are 1 Shot attempts! This means when you make a recording, your 1st attempt is what counts. If you think you sucked, or died too easily or any number of wonderful things, please note that you can simply hit Escape to stop recording and then choose to record again. This is due to the fact that unlike a linear digital recording, there is no means to rewind an .INP file..and even Fast Forwarding is a chore if you're 12th attempt is the one you completely dominate the world at, but it took 8 hours of playing in the recording to get to it.

If present, NVRAM should be deleted before recording as any NVRAM use is disallowed. It is also recommended that submitters rename their .INP and .WLF files in the following manner, if possible: Initials-RomName-Score

Under no circumstances should someone submit an .INP or .WLF file that is not their own. Submitters discovered doing this may receive a lifetime ban from Twin Galaxies.

Please make sure you read the settings for each game AND Use the correct Romset! Using the incorrect romset will result in your score being rejected. Using the incorrect settings will also result in your score being rejected.

It is the TG MAME policy that playback speeds should retain a minimum speed of 95%. If ever there is an exception to this ruling, it will be posted in the game's track rules settings.

Twin Galaxies has a general policy on keyboard mapping which allows at our discretion a player to map movement and action/fire keys as one. Generally we allow this for titles such as, but not limited to, dual-joystick games. If you're unsure if this is permissible for a specific title, please feel free to consult the Twin Galaxies forum community and they will do their best to help you.

Please make sure that you are using Frame Skip 0 and have the "Draw All Frames" option in use. Automatic Frameskipping is a rejectable offense as it creates playback issues.

For specific titles where you MUST go into a Service Menu for settings, all settings must be changed according to the rules specified in the specific score track you are submitting for or your score may be invalidated. This includes and is not only limited to, Williams games, Neo Geo games, later CPS2 titles where there are no dip switches.

For games that have a BIOS file, [Neo Geo, for example] please leave the Bios settings at the default settings. [Configurable in the GUI versions] If ever there is a game that DOES require a change from this, information will specifically be provided in the game track rules settings.

All MAME submissions are expected to follow all generally accepted and announced TG gaming guidelines during commission of your gameplay...no cheat codes, no turbo controllers, no glitch-abuse or non-approved hunting/leeching tactics, etc.
Showing the dip settings in every MAME and WolfMAME video submission is HIGHLY RECOMMENDED but not required.
It only takes a few seconds to make it simple for adjudicators to compare and see if the settings of the performance match the rules of the track.
If the dip settings are changed, then the performance must start after the reboot of MAME or WolfMAME, and the dip settings shown again "during the score performance."
This page has been seen 532 times.